2022 Community Survey

As part of the Community Engagement Volunteers' (CEV) program, the Policy, Training & Community Feedback sub-committee, consisting of two community members and the DCSO Accreditation Manager, spearheaded the creation and implementation of a countywide, community survey. This survey's goal was to gauge community satisfaction and general opinions as to the perceptions/work of the DCSO. A subset of the questions was included for parents/guardians as to our School Resource Officers program. The survey was administered from August 4th – 30th, 2022, utilizing the USPS "Every Door Direct" direct mail program to randomly select 20,000 households throughout our jurisdiction. Pictured below is the postcard survey invitation that was mailed to households.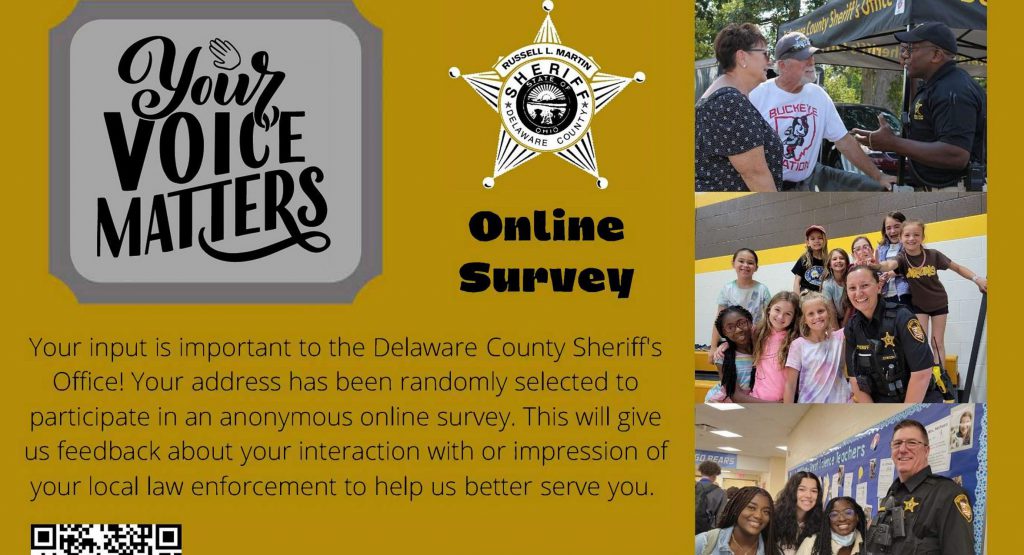 The links below take you to the Survey Results Executive Summary and the Survey Monkey raw data collected.
CEV Community Survey 2022 Results Executive Summary
If you have any questions, please reach out to the Public Relations department: 740-833-2817 or sheriffinfo@co.delaware.oh.us